Angharad Clans
Description and listing of Angharad Clans. See Angharad page for additional details about the Angharad Clans.
The rulers of the Angharad are the noble Clan families and their leaders are the Clan Queens. An Angharad Clan is composed of groups of 10-20 families bound together by actual or perceived kinship and descent. Multiple Clans (usually 3-10) can gather together based on kinship, vassalage or alliance to form Houses. There are usually four major Clan Houses based on descent from the original four daughters of Prince Sinann (House Tiran, House Raetha, House Runiver and House Umirelle), but there may be other recognized Houses among the Clans. There are also rumors of a "Fifth House" descended from the male line of Prince Sinann. The House Queens are selected by a conclave of member Clan Queens. Occasionally two or more Clan Houses will join together in alliance or vassalage and form a Great Clan. The Great Clan Queen is selected by a conclave of the Clan and House Queens. Very rarely, the various Houses and Great Clans will join together and elect a High Queen of the Angharad called The Banrion [bon-reen].
Below is a listing of Angharad Clans arranged by House. Within each house they are listed generally by rank of power and influence. Some clans have additional details on pages linked in their name.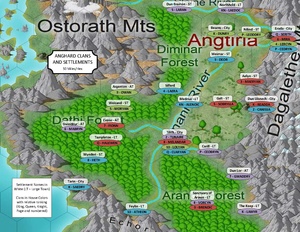 Time Period: Circa Burning 82
House Tiran
HOUSE TIRAN CLAN
QUEEN
LOCATION
HERALDRY
NOTES
COMMON HOUSE MOTTO THEMES: RAW POWER, VICOTRY, BREAK-THROUGH, MENTAL CLARITY
COMMON ELEMENTS: PURPLE, SWORD
COMMON TRAITS: AIR, LIGHT, SORCERERS, SWORDSMEN, MARCHER LORDS
MAJOR RANKED CLANS
LAMYR
ALONA LAMYR
HOUSE QUEEN
ARANDIL
THE KEEP
Twin Swords
Silver & Black
-
SERITH
JULLYRA SERITH
CENTRAL ANGTIRIA
ERADA
Griffin
Green & Yellow
-
LAEDOC
LALONNA LAEDOC
CENTRAL ANGTIRIA
NORTHOLD
Spear & Sun
White & Red
-
CEOBRYN
CENTRAL ANGTIRIA
CARILL
Wyvern
Blue & Purple
-
MIDDLE RANKED CLANS
-
-
-
-
-
-
-
-
VORCYN
ARANDIL
SANCTUARY OF ARAWN
Direwolf
Black & Dark Blue
-
GWADDRY
ARANDIL
DUN LOR
Lightning Bolts
Yellow & Black
-
MINOR RANKED CLANS
MABRYN
DATHI
GWINDNYR
Morning Star
Black & Grey
Dathi Forest Clans
Marcher Lords, Goblin Fighters, martial prowess.
LARAN
CENTRAL ANGTIRIA
DUN EREMON
-
-
-
-
-
-
-
-
-
-
TUNAIRE
DATHI
GWINDNYR
-
CENTRAL ANGTIRIA
TILITH (?)
-
Dathi Forest Clans
Marcher Lords, Goblin Fighters, martial prowess.
House Raetha
HOUSE RAETHA CLAN
QUEEN
LOCATION
HERALDRY
NOTES
COMMON HOUSE MOTTO THEMES: Inspiration, power, creation, beginnings, potential
COMMON ELEMENTS: RED, SCEPTER
COMMON TRAITS: FIRE, RELIGION, CLERICS/DRUIDS
MAJOR RANKED CLANS
READDA
HOUSE QUEEN
DUN UISNECH
TEMPLE OF DANA
Crescent Moon & Stars
Orange & Green
-
HALEWEN
TEMPLETON
TEMPLE OF LUGH
Phoenix
Orange & Red
Dathi Forest Clans
Templeton/Sun Temple, Temple Guard, Druids/Clerics of The Circle.
-
-
-
-
-
-
-
-
MIDDLE RANKED CLANS
-
-
-
-
BRENOIC
ARANDIL
SANCTUARY OF ARAWN
Blue Oak
Blue & Red
-
MELANDAR
CENTRAL ANGTIRIA
TILITH
-
-
FIONN
REANNA FIONN
DATHI
CEIRIN
Red Fox
Red & Grey


Dathi Forest Clans
Agriculture, sheep herding, commerce hub, river trade, clerics/druids of The Circle
MINOR RANKED CLANS
MIRA
CENTRAL ERADA
-
-
SOBRYLLA
CENTRAL ANGTIRIA
GALT
SAGAMON
-
-
-
-
-
-
MAERYAN
CENTRAL ANGTIRIA
AELYN
-
-
-
-
-
-
House Runiver
HOUSE RUNIVER CLAN
QUEEN
LOCATION
HERALDRY
NOTES
COMMON HOUSE MOTTO THEMES: Manifestation, new financial opportunity
COMMON ELEMENTS: GREEN, CROWN
COMMON TRAITS: EARTH, DARKNESS, DRUIDS, SORCERERS, LAND WEALTH, FARMING, COMMERCE, TRADE
MAJOR RANKED CLANS
DUNRY
HOUSE QUEEN
CENTRAL ANGTIRIA
BEARNS
Grapes & Wheat
Green & Gold
-
-
-
-
-
-
-
-
-
LEODDRY
CENTRAL ANGTIRIA
NILIND
Rose & Stars
Red & Green
-
MIDDLE RANKED CLANS
LOLYAN
CENTRAL ANGTIRIA
TILITH
Rampant Stallion
Black & Green
-
OWAN
DATHI
ARGENTON
-
Dathi Forest Clans
Fortified silver mining town, smelting (foundry stone dependency), ore barges, earth sorcerers.
-
-
-
-
-
-
-
-
MINOR RANKED CLANS
-
-
-
-
MORYAN
DATHI
WEISAND
Black Boar and White Tree
Black, White & Green


Dathi Forest Clans
Agriculture, cattle herding, river patrol/security.
LERCYN
CENTRAL ANGTIRIA
-
-
-
-
-
-
-
-
-
-
House Umirelle
HOUSE UMIRELLE CLAN
QUEEN
LOCATION
HERALDRY
NOTES
COMMON HOUSE MOTTO THEMES: Upright, Love, compassion, creativity, overwhelming emotion
COMMON ELEMENTS: BLUE, CHALICE
COMMON TRAITS: WATER, DRUIDS, CLERICS, TRADE, TRAVEL
MAJOR RANKED CLANS
SAEDRY
HOUSE QUEEN
DATHI
TARIN
SEA KEEP
Star & Tower
White & Black
Dathi Forest Clans
Commerce Hub, ocean/river trade, merchants, shipbuilding, fishing, druids/water clerics, bargemen.
Seaside cliff castle, island lighthouse.
CLARYAN
CENTRAL ANGTIRIA
TILITH
River Drake
Blue & Green
-
ALENOIC
CENTRAL ANGTIRIA
MEDRIUS
-
-
CEDRYN
CENTRAL ANGTIRIA
-
-
MIDDLE RANKED CLANS
ATHEON
DATHI
FEYLIN
Bow
Green & White
Dathi Forest Clans
Commerce hub (with elves), overland caravans to Tarin, river trade to Tilith.
DEOR
CENTRAL
WEIMAR
-
-
HETH
DATHI
WYNDERI
WYNDING FERRY
AETHRYN(??)
-
Dathi Forest Clans
River patrols, bargemen, lumber
-
-
-
-
MINOR RANKED CLANS
-
-
-
-
-
-
-
-
LAERA
DATHI
SILVER RIVER (SILFERD)
SILVER (COINS?) ON A BLUE BANNER
-
-
-
-
-
CANISSA
CENTRAL ANGTIRIA
DUN UISNECH
-
-
Independent Clans
INDEPENDANT
ANGHARAD CLANS
LOCATION
HERALDRY
NOTES
MAJOR RANKED CLANS
-
-
-
-
-
-
-
-
-
-
-
-
-
-
-
-
MIDDLE RANKED CLANS
-
-
-
-
MAENAN
DATHI
RHYAS
-
Dathi Forest Clans
The small town of Rhyas is governed by the independent Clan Maenan and is an important trading town on the Sinann River for goods going to or from Templeton and the Sun Temple of Lugh.
-
-
-
-
-
-
-
-
MINOR RANKED CLANS
-
-
-
-
-
-
-
-
DUNRAIN
DATHI
ESSAN
-
Dathi Forest Clans
A small clan in the Southern Dathi Forest known to be fierce goblin fighters.
-
-
-
-
-
-
-
-
Heraldry Notes
Old notes of heraldry of Eradain
Dragon - Red & Gold
Twin Swords - Silver & Black
Crescent Moon & Stars - Orange & Green
Rampant Stallion - Black & Green
Dire Wolf - Black & Dark Blue
Phoenix - Orange & Red
Bow - Green & White
Star - White & Black
Lance & Sun - White & Red
Twin Lightning Bolts - Yellow & Black
Morning Star - Black & Gray
Oak Tree - Blue & White
Griffon - Green & Yellow
Lion - Yellow & Purple
Wyvern - Blue & Purple
Falcon - Red & Black
Rose & Stars - Red & Green
White Stag - White & Green